Note:
*To be sure of product effect,  please upload the image according to "Provide Photo Standard" be
Looking for a unique, custom made gift for someone you love? Give the only present that's all about them! Here's something which can make every head turn and every heart blossom with the fond memories that personifies the gift at all times.
Our bobbleheads are handcrafted with 100% Polyresin material. Polyresin is a resin compound generally used for statues, figurines, and decorative furniture. This material could be painted with any color you desire. If needed, the color tone could be easily adjusted at any time during the painting design phase.
After shaping, the doll becomes hard and resilient, so can't be damaged during transportation. Because it is a completely traditional handcrafting product, when you look carefully, it is found that subtle fingerprints are left on the surface of the doll. Those who pursue flawless perfection should think carefully before buying.
To be sure of product effect,  please upload the image according to "Provide Photo Standard" below. 
The Standard design process takes approximately 4 to 6 weeks to be completed plus an additional week for delivery. Please note that this is simply an estimated timeline since the more revisions you request to be made during the proofing stages, the longer the design process will be. The above-estimated timeline assumes only 1 revision request throughout the entire design process. This applies to both Standard and Rush orders.
low. Thank you.
Turn Your Photo Into 3D Figurines, Hand-Sculpted To Look Like YOU!! Incredible Likeness! 100% Handmade

Each bobblehead is produced according to traditional hand-crafting skills, with a similarity rate of over 90% to the prototype. It is made of eco-friendly polymer clay that can withstand high temperatures. Furthermore, it features washable, non-fading properties, and is designed to last a long time, even a lifetime. It is a truly unique gift for family and friends. Perfect for birthday, wedding, Valentine's Day, anniversary, Christmas, etc. Just provide the necessary photos and related details, we could start the production. Please give full play to all sorts of imagination, our professional team will give you an unexpected gift.
Description
•Only the head is customized, and the body is made according to the product pictures!
•The size is the stature of the person standing from head to toe, isn't the actual height of the person while sitting or lying.
•The Stationary Head can make for any hairstyles, and the Bobble Head only can make short hairstyles.
•This item requires 5-7 business days to handcraft. We, Will, Sent an Email to you after the head is finished.
Please note:
1. If modifications are required please reply to us within 48 hours, or we will deem no change is required to continue the production, to avoid further delay, while the products cannot be modified for those replies over 48 hours.
2. The ship out the date of your bobblehead is directly affected by the number of changes you might request.
•365 days warranty
Details
Product material: Polymer clay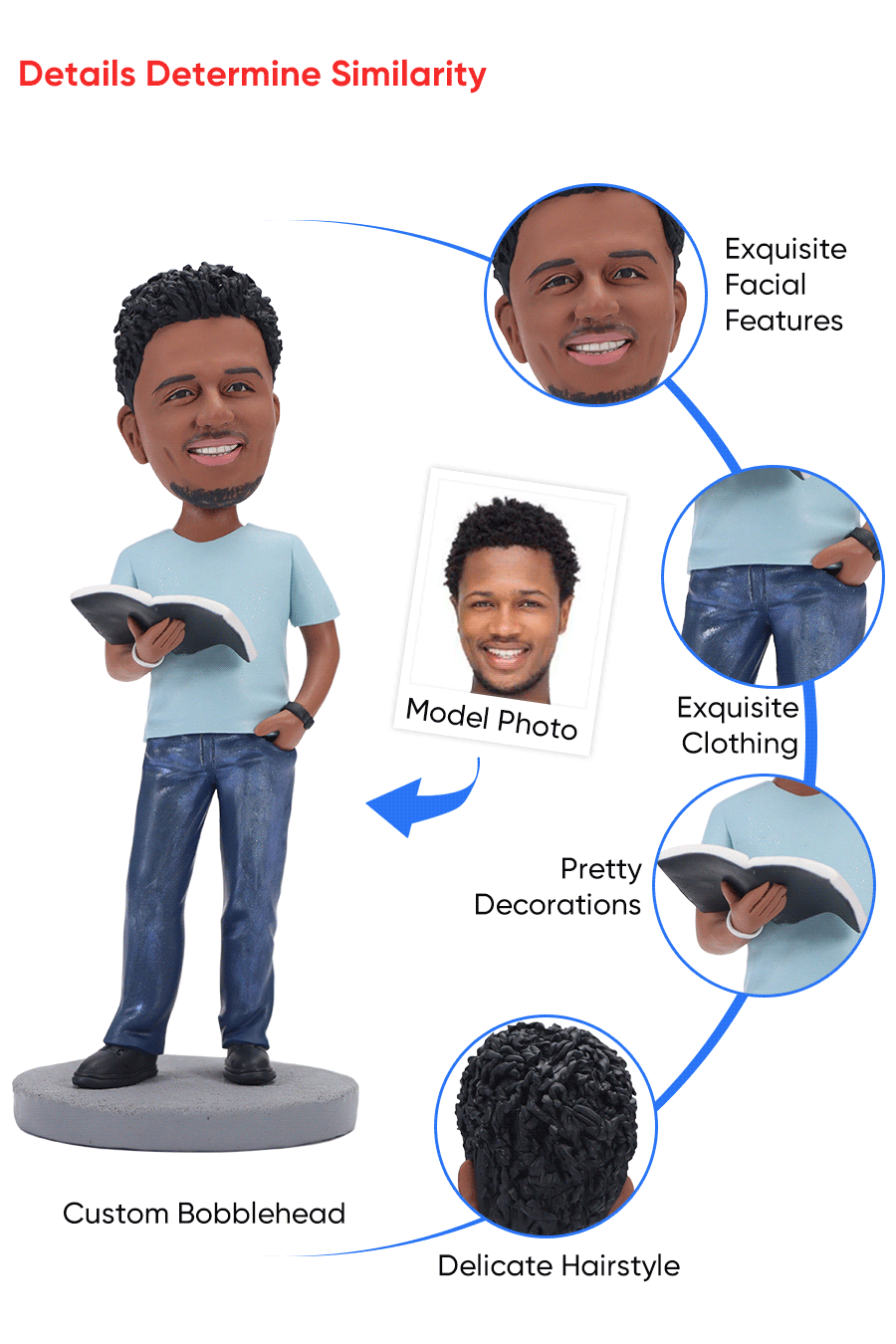 *@* *@*1053560
HOW LONG DOES IT TAKE TO RECEIVE MY PRODUCT?
Receiving time=processing time+shipping time. Generally, the processing time is 10~20 days. The shipping time is 5-25 days by shipping way you selected. International shipping times vary based on the destination.
CAN I CHANGE THE DESTINATION COUNTRY OF MY ORDER?
After your order has been sent out, you may not change your shipping address.
SHIPPING FEE AND SHIPPING TIME:
We provide Free Shipping for orders over $89 Worldwide.
There are several logistics methods:
Super Saving:22-25 Business Days (excluding processing time). Shipping Fee: $13.99
Standard Shipping: 7-15 Business Days (excluding processing time). Shipping Fee: $19.99
Expedited Shipping:(Applicable only in the United States): 5-8 Business Days (excluding processing time). Shipping Fee: $26.99
HOW WILL I KNOW MY ORDER HAS SHIPPED?
You will receive a shipping confirmation email once your order is ready to ship. Please note that orders may take up to 5 business days to process before they are shipped due to customized work involved. Once you have received this email please allow 24-48 hours for your tracking number to update with USPS.
Please keep in mind delivery dates may change due to inclement weather conditions or holidays.
DO YOU SHIP INTERNATIONALLY?
International shipping is available currently.
NOTE: All prices on our site are USD. Once you complete your transaction, it will charge your card in your respective currency.

PLEASE NOTE:
If your personalized product was remade, your order might be delayed. Only those items that passed the quality inspection process can be sent out, with our standards and aim to supply you a perfect gift.
At this time, we do not ship to APO/FPO addresses or college dorms. Shipments to Alaska, Hawaii, or Puerto Rico may exceed normal delivery time.
Expedited shipping is not offered to P.O. Box shipping addresses.
We do not offer overnight shipping.

If you have any questions, please feel free to contact us via email:anexclusivegift@tomailme.com